Rolling Hills Ranch
Rolling Hills Ranch Neighborhoods 
1 Alexandria
2 Bella Lago
3 Cabo Condos
4 Castillian
5 Chambord
6 Chapala
7 Clearstory
8 Fairhaven
9 Kensington Road
10 Madison Lane
11 Magnolia Hill
12 Old Creek I
13 Old Creek IV
14 Palma
15 Pepperwood
16 Provence
17 Quintessa
18 Rose Arbor
19 Salt Creek Ranch
20 Stone Canyon
21 Valencia Point
22 Van Daele Estates
23 Verona 
Rolling Hills Ranch Information
Rolling Hills Ranch is located in the farthest northeast corner of East Chula Vista. This community has no mello-roos. It's located east of San Miguel Ranch, north of Eastlake Woods, Trails and the Eastlake Business area, south of Bonita and west of open space preserve and Jamul.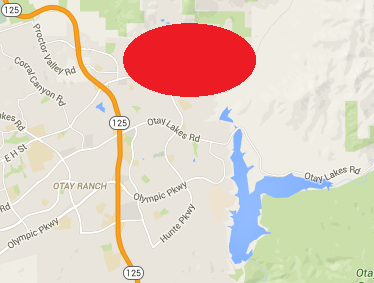 There are 3 communities on the community map at the top of the page that are not technically part of Rolling Hills Ranch and do have mello-roos. They are Cabo Condos, Chapala Condos and Bella Lago Homes. These 3 communities are categorized as Rolling Hills Ranch because they're located next to Rolling Hills Ranch and are assumed to be within this community. To my knowledge Cabo Condos and Chapala Condos were originally part of a large master planned community called Salt Creek Ranch and this particular area was called Rancho La Cuesta. Salt Creek Ranch was the original community before Rolling Hills Ranch. When Salt Creek Ranch ran into financial trouble the land was sold and the new community of Rolling Hills Ranch was formed. Bella Logo came much later at the end of the Rolling Hills Ranch New Home Community buildout. 
Because Rolling Hills Ranch has large homes and beautiful parks and rolling hills it is a very desirable community in East Chula Vista. Thurgood Marshall Elementary School, Montvale Park and Salt Creek Golf Course are located within this community. There is no shopping or dining within this community but they are just a short drive away. 
Interested in Rolling Hills Ranch Real Estate?  
Give The Lewis Team a call today!  619-656-0655
We are The Rolling Hills Ranch Real Estate Experts!