Eastlake 
       
Eastlake is a master planned community in East Chula Vista  
Eastlake was the creation of the H.G. Fenton Company who came up with the idea of developing an area of East Chula Vista between 1979 to 1981. The H.G. Fenton Company hired a company from Newport Beach called Cadillac Fairview Homes West to plan, zone, and develop the land. Eastlake comprised 3,200 acres of prime Chula Vista land, formerly ranchland. I can remember before all the homes were built all of the cattle that dotted the landscape. It was quite a site.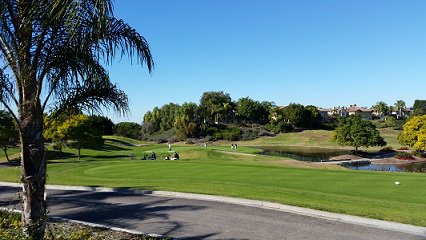 Eventually, Cadillac Fairview Homes West transferred the Eastlake project to Ron Lane and Dave Kuhn who were two employees of Cadillac Fairview Homes West. There are 2 streets named after them in the Eastlake Business District called Lane Drive and Kuhn Drive by Scobee Park. They formed the Eastlake Company and created the Chula Vista Community of Eastlake that we know and love. The vision of the Eastlake Company was to create a community with schools, parks, stores, business centers and more. A community that has everything a family would need in one location.  They definitely succeeded.   
The first area of Eastlake to be built was Eastlake I which included Eastlake Hills and Eastlake Shores. Eastlake Shores has a wonderful manmade lake that is the iconic symbol of Eastlake.  
Eastlake II is the neighborhood of Eastlake Greens. Eastlake Greens is a gem in the cap of the Eastlake Communities. It is a golf course community surrounded by homes and condos. In the center of the community off of Clubhouse Drive is the Eastlake Golf Club which is a wonderful 18 hole golf course open to the public.  
Eastlake III includes the communities of Eastlake Trails, Eastlake Woods and Eastlake Vistas. 
Eastlake Trails was built first and then Eastlake Woods and Eastlake Vistas were built at the same time. There is also an Eastlake Trails North which is sometimes called Eastlake Woods West. Eastlake Trails North is northwest of Eastlake Trails on the other side of Hunte Parkway and Otay Lakes Road. This area has 2 single family detached communities and is really its own community unto itself. Eastlake Trails is a mixed housing community of 2 condo complexes, small homes ranging from the low 1,000 square feet range all the way up to 3,700+ square feet. The smaller homes are sought after because in the Woods and Vistas they were all medium to large and even mansion sized homes. The Woods having the largest homes on the largest lots including The Gates at the Woods by Eastlake which were custom home lots. There were no condos built in the Woods and two condo complexes built in the Vistas.  
Eastlake Summit called "The Summit at Eastlake" is not part of Eastlake I II or III 
Latest Eastlake Real Estate Blog Posts
4 Bedroom Home for Sale in Eastlake Chula Vista
4 Bedroom Executive Home for Sale in Eastlake Trails
Eastlake Trails Executive Home with Pool Coming Soon
1457 Agate Creek Way Chula Vista CA 91915